"The aims of the association shall be to promote the rights and needs of Camden Council tenants and leaseholders (freeholders are not currently included) in relation to the maintenance and improvement of their housing conditions, amenities and the environment, which will benefit all the residents within the association area."

---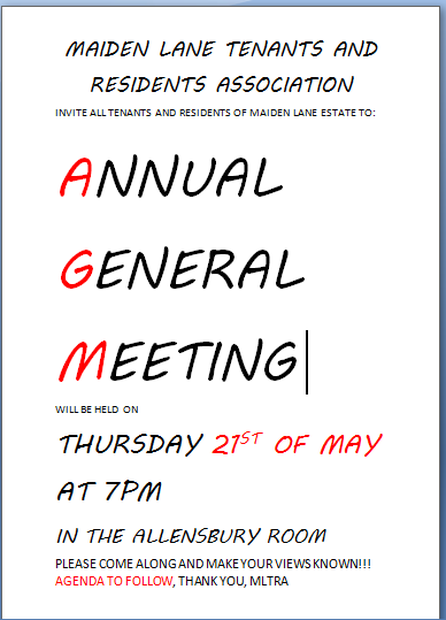 You are invited to the
ANNUAL GENERAL MEETING
of Maiden Lane Tenants and Residents Association.
FREE PIZZA!!! FREE PIZZA!!! FREE PIZZA!!! FREE PIZZA!!!!
NEXT THURSDAY –
21ST of MAY at 7PM in the ALLENSBURY ROOM
AGENDA:
1. Update on Refurbishment of Maiden Lane.
2. The shape of continued food-waste collections on Maiden Lane.
3. Treasurer's annual report.
4. Plans for Allensbury Community Room.
5. Changes to MLTRA Constitution and Allensbury Room lettings policy.
6. Election of committee and officers of MLTRA.
7. A.O.B
8. PIZZA and sparkling conversation for all!!!!
Please come along and get your views heard!
A word about
LOCAL LETTINGS ON MAIDEN LANE
.
Please be aware that the first of the new council flats will be open for bidding soon. "Block J" is the first to be finished and consists of only 1 bedroom flats. Under the
Local Lettings Policy
residents of Maiden Lane will have priority if you are in housing need (i.e. overcrowded).
YOU MUST BE ON THE HOUSING WAITING LIST TO QUALIFY - THIS WILL NOT HAPPEN AUTOMATICALLY.
The estate office have been holding drop in sessions to help residents register on the housing list or update their application if they have already not done so. There are two more on:
Wednesday 20th May from 1pm - 3pm OR
Wednesday 27th May from 6.30pm – 8.30pm
At the Maiden Lane Estate Office 102a St Paul's Crescent, NW1 9XZ
MAKE SURE YOU ARE ON THE LIST IF YOU WISH TO BE CONSIDERED FOR THE NEW BUILD FLATS.
EVENTS:
Due to non-provision of promised funds by Sisk,
MLTRA
will no longer be organizing the series of events advertised around the estate. This means that the Bingo evening scheduled for May will no longer go ahead. While we are sad that these events will not be taking place we find we cannot organize them in the time frame expected by Sisk and pay for events up-front out of MLTRA's funds.
We will continue to organise our normal MLTRA annual social events such as our brilliant Fireworks night.
CRECHE:
We hope to provide a crèche on the night, although spaces will be limited for very young children and will be on a first come first served basis.
NEW MEMBERS VERY WELCOME!!
We are actively seeking new members for the association.
You can email us on:
maidenlaneestatetra@gmail.com
Check out our websites:
www.maidenlanetra.co.uk
minutes:
www.mltra.co.uk
Follow us on Twitter
@maidenlanetra
and
on Facebook search: '
Maidenlanetra
'
---
BUILDING WORK ON MAIDEN LANE IS OUT OF CONTROL - WE NEED CLLRS. FULBROOK, JONES AND MASON DOWN HERE NOW...

RESIDENT TESTIMONIALS:

"I live in Maiden Lane and they are pulling my block down and I am going to move into no. 8 Broadfield directly opposite the building site.

They work 5 ½ days a week, in the mornings as they come into work they are shouting at one another or on their mobiles. This starts at 7.20am. I don't need an alarm clock anymore.

I'm not young, I have health issues, sometimes it is hard, I have good days & bad days and I have just come out of hospital with septicaemia and I have to walk straight back into this! It does my head in. Certain times you have to put the telly on louder as I can't hear it yet alone the phone. And with the weather I have to have the windows open but then there is the dust! Dust gets everywhere in the house. You dust it and you have to dust it again. I choose to stay in the bedroom and watch the telly instead of the sitting room as it is too much. After work they are back on their mobiles, holla'ing and shouting.

It gets me down. I'm fed up. Since I've been out of hospital I've not been right since. I've just argued with the workmen. They've closed the road till the 4th of August. They were digging for the gas pipes and that was meant to be it. But they've brought in a mini pilling machine. For a couple of weeks they said. I'm not putting up with this. We weren't informed!

The doctors have put me on anti-depressants. I don't like them working on Saturdays. Give us a break. 5 days a week is enough. Obviously they have to do their job but with control – it is out of control!

I never got a letter saying mini-pilling would be happening. The Sisk information board hasn't been updated either! I'm sick and tired of these people, the councillors are a wash out; they don't live on this Estate. They don't know what's going on here.

At my time of life I don't need it."

Brenda, 63years old, Lives on Maiden Lane.


"I work from home for some of my time and the noise is making that very difficult, I am trying to work away whenever possible. I am closing all of the windows and wearing ear phones which are uncomfortable, unhealthy and claustrophobic.

The extremely close proximity of the block that was consented next to Allensbury means that we also have to endure a severe loss of privacy during construction and a loss of privacy on completion.

I am, however, more concerned about the elderly and vulnerable people in my block who cannot get away easily, the noise could send people on a downward spiral and given the recent tragedy with my neighbour Alan I think its imperative the council ensure someone is checking on the elderly and vulnerable on a regular basis to assess how they are coping."

Dylan, Lives at Allensbury Place.


---
"The noise on the Estate is unbearable. Give us a break, by not doing the pounding on Saturdays. We asked for double glazing 18 months ago, we were told by (Robert Pert) the then leader of the regeneration team for Camden (currently the Associate Director, Housing Development & Regeneration at Savills who are marketing the new flats for sale on Maiden Lane) that it was IMMINENT.

Robert Pert has since left his job, and it is being taken over by Steve Downes who informed the tenants that the double glazing would start in June 2014. However, at a meeting on the 22nd of July he said it would now start in September 2014. By the time we get the double glazing the work on the Estate will be finished!

In my mind Camden Council are INCOMPETENT and need to sack the person; i.e.; Steve Downes."

James Chandler, Lives at Allensbury Place.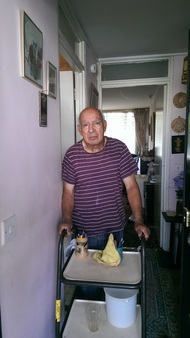 "I get headaches. Every day it goes on and finishes at 6pm in the afternoon. There is too much noise from the trucks beeping continuously.

On Saturdays it starts at 8am and finishes at 1/2pm. I am a very frail elderly person. I would tell Sisk to go away."

Hernando Sarmiento, 81 years old, Lives at Allensbury Place.


A worker on site when asked how behind the project was:
"They are pretty much behind".

Though we were told the opposite by Steve Downes on the 22nd of July 2014.




---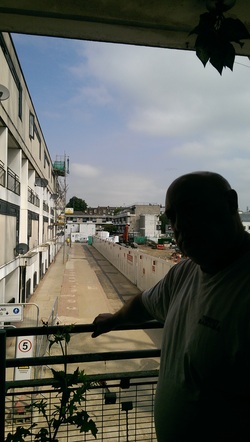 "I have sleep apnoea. It is very bad. I sleep nearly 15/16 hours daily. Because of my shortness of breath I need to park my car close to the building but we are not allowed. And yet 75% of the residents living in Allensbury are disabled. When I do my shopping I have to take it slowly and make about 4/5 trips or if I am lucky I get the help of a friend/neighbour. Once that is done I am out of breath and have to go back on the oxygen.

We need access here for emergency parking. They put in the parking stands on the condition that we could use them. Once installed we were refused use of them for emergency parking. I am a disabled badge holder and I am not allowed to park.

I have received tickets for parking away from my house as I have had to park a bit closer. They have left me with no choice. Why can they not drop the barriers and allow me to park there, even if just to unload.

We have had worst happen here. We all have bad health conditions here, we are at the same level of the construction and have to keep our windows closed because of the noise. My neighbour died and she had severe asthma. There is no access to clean air.

I had to call from abroad where I went to attend a funeral to see if my neighbour could help me with my luggage upon my return as I was so distressed about managing to get home. Whilst on the phone call I heard of my disabled neighbour who committed suicide. The council and Sisk have no consideration."

Jean Aziz, 62 years old, Lives at Allensbury Place.


---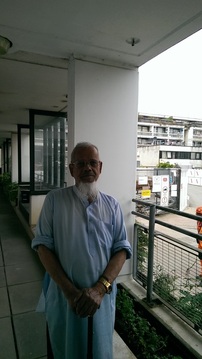 "It's very noisy. It keeps me awake. There is too much noise, 8am they start and it wakes me up. It stops me from resting."

Mohammed Abdar Ullah, 76 years old, Lives at Allensbury Place.


---
---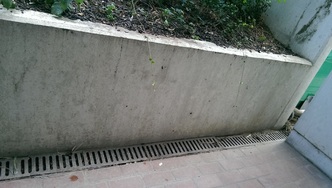 "We can't do anything about the noise. They also moved the rubbish bins next to my door; this is the biggest problem for me as I now suffer from the noise of people throwing their rubbish away at all hours, even at midnight on top of the construction noise during the day.

Everywhere there is dust. They don't clean the area, they only do a sweep; they don't hose the dust down. They have been sweeping the dust into the drains. When the rain comes it will probably cause flooding.

I am in between both construction sites so I suffer from noise on both sides. The trucks are continuously going from side to side past my door between the sites.

I don't know what they can do to reduce the noise.

I have offered the community centre as a respite area but I never go to the community centre, I wouldn't use it.

I have asked for my kitchen to be painted for over 2 years as this flat has always suffered from leaks from the flat above and I am fed up.

This lady witnessed the suicide of her neighbour Alan two weeks ago and she has not been offered any type of counselling. No one has been to see her apart from the initial visit from the police. They should have sent someone round to see this lady.

Now there is noise on Saturdays. I can't rest in my house. We have no support. We have to sit here and suffer. I had to ask my brother to stay over following the suicide. This is the life. What can I do. Nothing."

Hawa, 49 years old, Lives at Allensbury Place.


---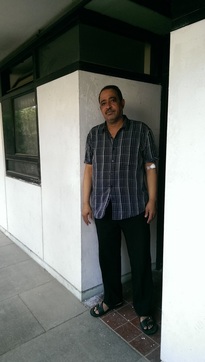 "I work in the afternoon. Two days from noon and, two days from 2pm. I used to sleep till 11am but now I can't. I'm woken by 8am. Sometimes the noise makes me feel like my head is going to explode. I am on medication because of this. Residents are all suffering the same symptoms on both sides of Allensbury. I don't know who to turn to because of my level of English.

Omar asked us how much longer the work would take. We told him another 2 ½ years. He didn't know it would take this much longer.

I asked them in one of the meetings at the community centre 3 months ago to help him to move. They said I had to go online. I don't know how to do that. I can't stay in this condition for another 2 ½ years."

Omar, 61 years old, Lives at Allensbury Place.


---
---
Past Maiden Lane Tenant and Resident Association MEETINGS: